I've been subscribed to Humble Choice for a while, but recently I've had my subscription paused... the selection of games isn't appealing, and I'm not happy with Humble's recent practices. I really ought to cancel the damn thing instead of pausing each month. Although given the dark pattern that pausing is, I can't wait to see how onerous an actual cancellation is.
First, you click Pause A Month.
Then it asks you if you are sure you want to pause - and yes, confirmation is a good thing. One.
The first time you try to pause your account, it asks you a quick survey on why you are doing this. Again, nothing particular wrong with this approach - if it paused first and then asked why. But not only does it not do this, each subsequent time it performs the same step, except no questions. Just another confirmation. Two.
After you confirm a second time, then displays a modal dialog for another confirmation. Three.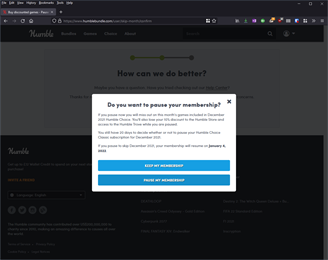 After answering "Yes, Pause My Bloody Membership" three times Humble finally get the point and pause the subscription. Until the next month when you get to do it all over again as they automatically unpause.
Why do companies insist on putting barriers on anything to do with downgrading or cancellation? Ok, that was a rhetorical question as we already know why, these scummy corporations want as much money in their grubby paws as possible and things like providing a nice service for customers are anathema to that goal for some reason.
Although, to give Humble some credit, at least you can cancel online (and even the pause feature is something you don't see very often), rather than having to use the telephone and speak to someone. Either way though, I wish these practices were illegal (I'm probably still salty from getting caught out by one of these dark patterns umpteen years ago trying to cancel a MMO sub and finding myself still getting charged).
This post was first published Monday 13th of December 2021 and was last modified Monday 13th of December 2021 at 20:13:54.