In my youth I used to collect stamps. I don't remember when/why or stopped or what happened to the collection but it crosses my mind in a wistful fashion every now and then. Recently I became aware that the Post Office was releasing a set of stamps commemorating the UK's gaming history and decided I get some - I had meant to get an earlier collection which I think was about British computing but never got around to it.
I chose to get the First Day Cover as I've never gotten one of these before, but also the Limited Edition Collector's Edition (why not, when in Rome!). These arrived today and I'm pretty pleased with them. There are eight stamps of various denominations covering British games from the 80's up to mid-90's
Elite
Dizzy
Populous
Lemmings
Micro Machines
Sensible Soccer
Wipeout
Worms
With the exception of Wipeout, I've played all these titles. My favourite (and the one I played the most) was Populous, one of the first games I got for my Sega Master System II. The one I played the least was Elite, I seem to recall playing a pirate version of this on a PC and not being very good at it.
The First Cover includes all four stamps on a watermarked envelope which is awesome in its own rights, but the Collector's Edition tin is much nicer - it includes 8 cards, one for each game. The front of the card contains an actual stamp along with some blurb about the game and a quote of text from within the game itself. The rear of the card includes a zoomed print of the stamp. As this is a limited edition there's also a certificate of authenticity plus a small booklet containing a little more detail on each game. The tin itself is nice, decorated with the collection logo and little icons representing each game.
They actually look so nice I in a way regret getting them because having them stuffed in a tin isn't going to do them justice. I think I might make / buy a nice frame for them and stick them on a wall!
(Sorry if the photograph's are "off", they seem a bit more blurry than usual, not sure why. Not to mention the inconsistent sizing, next time maybe I should use a stand or frame so the shots are all the same)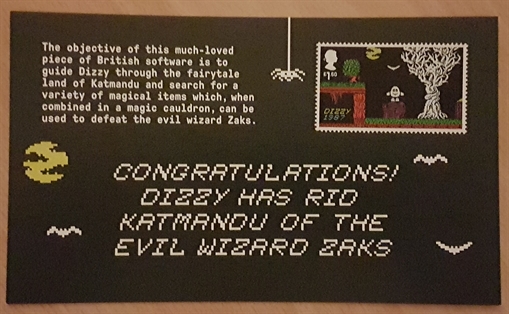 This post was first published Tuesday 21st of January 2020 and was last modified Tuesday 21st of January 2020 at 17:42:43.